Sons of Lope de Vega and New Bay light up Tattersalls Book 2
A son of LOPE DE VEGA was the star turn when selling for 675,000 guineas on a remarkable second day of Book 2 of the Tattersalls October Yearling Sale, which saw nine lots sell for 300,000 guineas or more, taking the two-day total to fourteen, three more than last year's three-day total.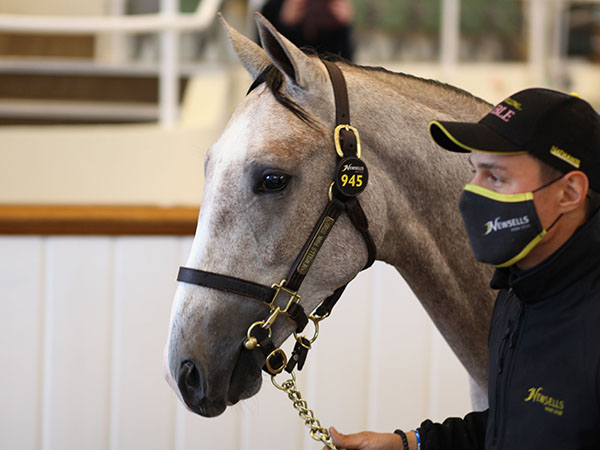 Lot 945: Lope de Vega (IRE) x Loch Ma Naire (IRE)
Lope De Vega colt to Godolphin for 675,000 Guineas
Anthony Stroud continued his buying spree on the second day of Book 2 of the Tattersalls October Yearling Sale, securing the LOPE DE VEGA colt out of the GALILEO mare LOCH MA NAIRE for 675,000 guineas.
"He is bred on a successful cross – Lope De Vega ex Galileo – he is an attractive horse and beautifully bred, and Lope De Vega has done incredibly well," said Stroud, after buying on behalf of Godolphin.
The colt's dam is a half-sister to the dual Group 1 winner SIMPLY PERFECT and was offered by Newsells Park Stud on behalf of breeder Andrew Stone's St Albans Bloodstock.
"The team did a great job prepping him but we have only had him for eight or nine weeks, so credit must go to Andrew Stone of St Albans Bloodstock who bred him and the farm that raised him," said Julian Dollar of Newsells Park Stud.
"In this climate we did not think it would be at all easy, but the market seems to have taken off incredibly this week. I keep thinking there was value last week, but I am not complaining, it is fantastic. Thanks to all the people prepared to take their hands out of their pockets and spend big money on racehorses, long may it continue."
The colt, who Stroud secured at the expense of underbidder Andrew Balding, is the fifth highest priced colt in the history of the October Book 2 sale.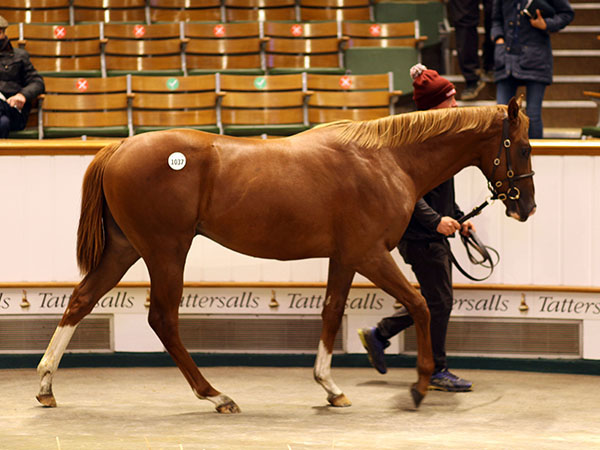 Lot 1037: New Bay (GB) x Need You Now (IRE)
New Bay colt sells for 400,000 Guineas
Late in the evening Anthony Stroud secured the NEW BAY colt out of the Listed winning KHELEYF mare NEED YOU NOW for 400,000 guineas, the highest price for a yearling by the son of DUBAWI to sell in the auction ring.
The colt was consigned and bred by Ballylinch Stud who also stand NEW BAY, which delighted managing director John O'Connor.
"We bought the mare at Tattersalls here five years ago," he reported. "We sold a very nice Kodiac filly out of her a couple of years ago who looked very promising.
"I think more of this horse as an individual that caught the eye, when he was down at the barn, when viewers came to see him, he just had an extraordinary action and he is the same when he is lunging, he has a lot of quality.
"The stallions are going well, we are delighted with the way the market is receiving them but the reason they are selling well is they are getting winners in the right places and the right types of tracks and the right stakes races. That is what it is all about in the end – sales should be about racing."
The first runners by NEW BAY have included the Group 2 Royal Lodge winner NEW MANDATE and the Group 3 Oh So Sharp Stakes winner SAFFRON BEACH.
NEED YOU NOW was purchased at the 2015 Tattersalls December Mare Sale by Ballylinch Stud for 275,000 guineas.
Originally appeared in the Thoroughbred News on October 14th 2020
BACK TO NEWS